Installation Flow
To be prepared by the customer
Please prepare the following
1.Internet Environment
* Contract with provider
* Fixed IP address
2.DICOM connection
Set-up of inspection apparatus for DICOM connection
It is also possible to send/receive DICOM images via memory media, such as USB memory
3.various dispensables
* printer paper, toner, etc.
K.K. Paradox lends the following
Machines necessary for this service can be lent by K.K. Paradox.

Configuration example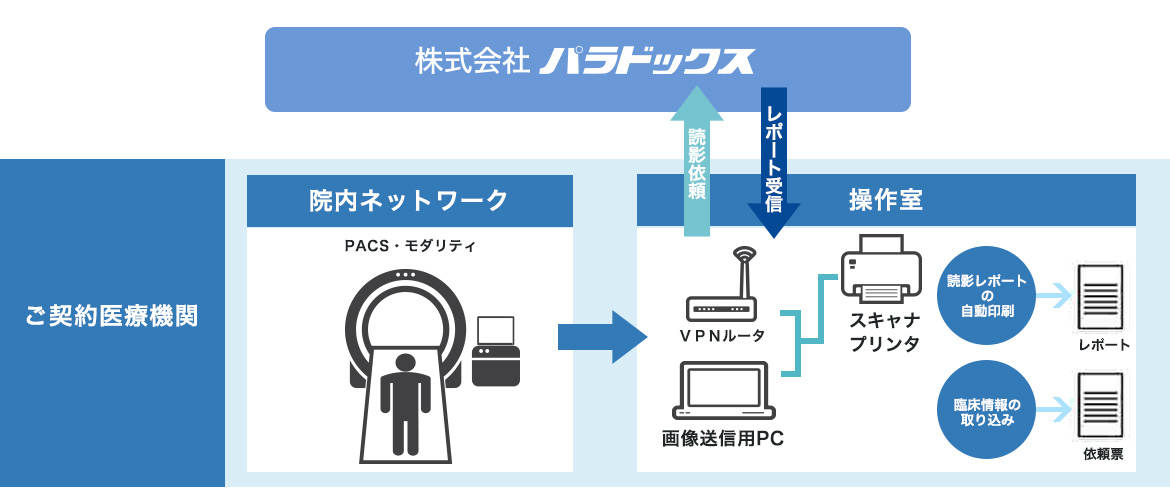 Flow until installation
EStimation
Upon hearing the environmental conditions of the customer, estimation is submitted.
Contract/order
Prepare contract/purchase order.
Site investigation
Investigate the site environment.。
Check internet connection, LAN set-up, etc.
Investigation of machine preparation/operation
PC, scanner, printer, VPN router are lent by K.K. Paradox
Investigate internal system linkage.
Investigation takes about 10days